Now that school is out here in Arizona (and soon across the country), it's pretty much considered summertime. Granted, summer officially doesn't start until June 20, here in the phoenix area it's already been in the 100s! We're lucky we live in the desert, we can grill pretty much year round. So while some of you are just bringing out your grill for Memorial Day weekend, we here in Arizona have had a great head start. So what are you grilling this summer?
First off, let's talk grills. There are a variety of grills available for use. Charcoal and gas are most commonly used in my neck of the woods (err, desert). But there's also pellet grills. Your favorite BBQ enthusiast either has one, or it is on their wish list! These are great for large get-togethers, those who cook large quantities of food or just an all-around food and grilling enthusiast! If you're interested in a pellet grill of your own or want to learn more about them, the camp chef grills are some of the best pellet grills available from what I've read
Of course, we think of the staples when we think of grilling. Foods such as steak, burgers, hot dogs, chicken, and even fish are classic grilling items. I pretty sure they're are the most common foods to grill (and I'm sure there's an article/study/poll somewhere that says it lol). I can't pick just one to be my favorite.
Of course, you grill veggies. Everything from bell peppers, to corn on the cob, even broccoli. If you haven't grilled veggies, you don't know what you're missing. You can use regular foil on the grill to place the veggies on it, or you can buy racks to place on over the grill so they can cook without sticking. You can find them online or locally at a big box retailer (Walmart, Target, etc).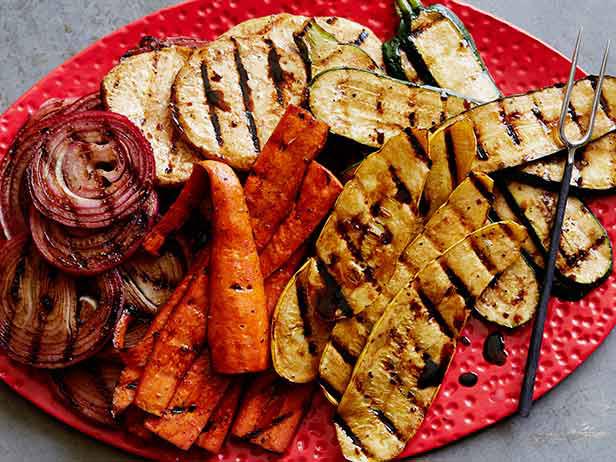 I know, sounds weird, but yes! You can grill fruit. Watermelon is a favorite, and I've seen others put a little sprinkle of sea salt on it afterward. Other fruits to try grilled are pineapple, peaches, pears and mangoes. But you could really grill almost anything. Also, grilled fruit skewers (or kabobs, whichever you prefer). Making a salsa for a get-together? Try making a grilled mango pineapple salsa!
These suggestions are all pretty basic. But there's always more for those who want to take it a step further. There are recipes for just about anything out there. You can grill asparagus, clams, meatballs, tofu, and even make quesadillas or pizzas! I have a great pizza recipe for the grill ou make it on a tortilla, use pizza sauce, and top with whatever you want. It's a great way dish to have in the summer while swimming or even camping. I'll have to make a post in the near future with a variety of recipes for that!
I love finding good tried-and-true recipes - what are your favorite grilling recipes? Share it in the comments! :)