So, you're planning a trip to Arizona? That's great! There's so much to see and do here. Of course, depending on where you decide to stay, you have quite a bit to choose from. There are sights in just about every corner of the state. In this article, we'll cover the northern, central, and southern portions of the state.
Let's start up north, and with the most obvious, the Grand Canyon. There's not a bad view here. No matter which side of the canyon you're planning on staying, you're sure to see an amazing view. Walk along the rim and take in the sunset, and as the moon rises you'll see glimmers of lights from within the canyon from people settling down in their campsites.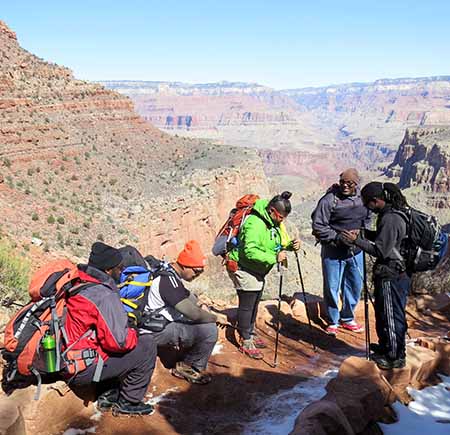 The Grand Canyon is a great place to go if you're looking to take time away from electronics. Along the rim itself, you won't find Wi-Fi or much of a data connection. Your best bet is at the café's, restaurants, library and hotel. It'd be a great place to have a tech-free family day.
There's so much to do at the Grand Canyon. From hiking, to camping, to boating in the river. It's fun to just enjoy your time while you're here, or you can do some research and plan your excursions ahead of time.
The South Rim is open all year, while the North Rim closes for winter.
The next stop is central Arizona, otherwise known as The Valley. This is the Phoenix Metro area. There is so much to do in The Valley, from the zoos, to the shopping malls, even our own little amusement park, Castle's and Coasters. But the best thing to do, is to take it all in with a hot air balloon ride. A sunrise or sunset ride would be the perfect setting for a date, or even to propose. You won't be flying over rooftops, but over the mountains and desert surrounding Phoenix. You'll see the beautiful saguaro cacti, buttes, and the Sonoran Desert.
Float Balloon Tours offer a cup of coffee before a sunrise ride, and then breakfast after. With a sunset ride, you'll get dinner when you land. Float keeps their prices low, but offer roomy baskets so everyone has a great view. Best of all, the balloon operators are very skilled, and are FAA certified (also, accident free). There's a variety of packages available to suit every budget and desire.
You haven't experienced Arizona and the Sonoran Desert until you've seen it from a hot air balloon.
Now let's head south to Tombstone, Arizona. This is located down near Tucson. This town is the best old-west town you'll find. It is as if the 1880's were frozen in time. The buildings are original, though the people aren't. Come as you are, or dress the part! Kids will love seeing the old cowboys walking around. You may even get to meet an outlaw!
You can visit the OK Corral to hear Vincent Price's dramatic retelling of the shootout. Then, relax with a beer (or root beer for those underage) at one of the local bars. The Bird Cage Theater Museum is a former brothel that has been preserved. It has not ever been restored. Everything is 100% original.
The town is called "The Town Too Tough to Die". You can take photos with the dummies at the OK Corral, take a tour or two, and enjoy the good 'ol days in the wild wild west. There are also shows and reenactments that are sure to make you smile.
Oh, and fun fact: The Travel Channel Show "Ghost Adventures" has visited the town to check on accounts of paranormal activity. Fans would love to visit the Bird Cage Theater, where they investigated.
Those are my top three things you can check off your bucket list when you come to Arizona. But I know that many people come to Phoenix area. Whether for travel or for vacation. Maybe the Grand Canyon isn't your thing, and you don't want to drive nearly two hours south to get to Tucson. Here is a short list of fun things to do in the Phoenix area.
The closest thing Arizona gets to an amusement park. It's not big, nothing to boast about, but it's still a top spot in the warm months. There is also a mini-golf area and arcade games. So everyone can have fun.
I personally like going to this zoo. If you go to this one, please keep in mind you may not see all the animals. The zoo was, and still is, first and foremost a conservatory for these animals. Personally, I recommend avoiding going in the hot summer months. If you are only here in those months, then go super early, like when the park first opens. There's a splash pad in the zoo for little kids where kids can cool off (or adults if you're hot, too).
A very open zoo. You may encounter a peacock or two… or three! There's many animals to see, and most are always available every day. They also have an aquarium and various animals that are indoors. There is a lift you can take to get some great views of some of the animals, and a water ride if you need to cool off.
If you're feeling up to it, you can visit the Out of Africa Wildlife Park. It's not exactly in Phoenix, but rather in Camp Verde, which is about an hour north of Phoenix. There are several hotels (and a casino) nearby to stay in, in case you want to make it more than just a day trip. At the park, there's many different attractions besides just entering. You can feed a tiger, get in with a sloth, and even go on a safari tour.
If you are a pass holder at another park, you just may have access to come into this one (depends on level of membership). This waterpark is pretty fun and is just what you need to do in the hot summer days. There are a variety of rides for people of all ages, even a toddler area with mini versions of the popular rides. The wave pool and lazy river are my favorites. Floats and life jackets are available at the park (floats may have a rental cost if you're not a passholder, but the life jackets are free).
Tell me,
What's your favorite thing to do in Arizona?
Haven't been yet? What's stopping ya?! Drop me a line if you ever stop by.