Disclaimer: This post contains affiliate links, sponsored content or reviewed products. Regardless, all opinions expressed here are my own. I would never suggest anything to you that I wouldn't use myself. -Jennifer
This week's Bold & Full Wednesday is a reminder we all need...especially heading into the busy holiday season. The story is touching, and something we can probably all relate to.
You Can Do Hard Things Graphic T-Shirt
The code is
YOUCANDO
and it will make each tee
$15.95
in the cart, with FREE SHIPPING. The code is valid 10/12/16 - 10/19/16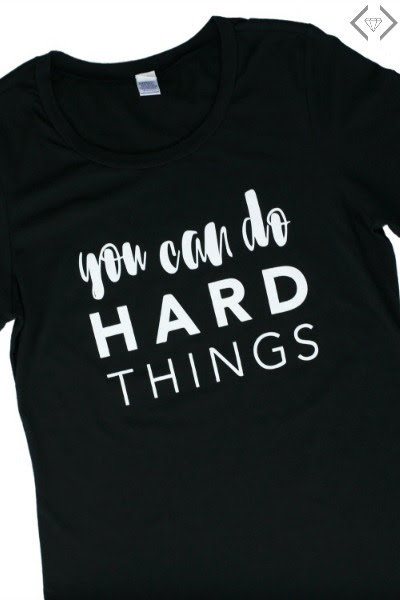 Bold & Full

Wednesday

- 10/12/16 - You Can Do Hard Things Tee for $15.95 + FREE SHIPPING w/code YOUCANDO
This shirt was made for Cathy from

Fabulessly Frugal

. We love her grit and determination, and love the reminder about how we can do hard things...and just how strong we each are:
Well, over the last 2 years I've learned that I can do hard things… I can almost pinpoint the moment that this light bulb went off. I was at the YMCA, in a BodyPump class. I was pushing myself through a pretty tough set of squats....Anyway, my wonderful instructor Karen always motivates me to keep on going. Through her inspirational yelling at me above the loud music and positive energy in the room, she's taught me that I can do more than I think.
So there I was, in pump class, and she yelled something about doing hard things, becoming stronger and better… and then I had this thought, "HECK YA! I can do hard things! This is changing me! And I LOVE it!". And then as the class went on, my mind continued to think about all the hard things I've overcome. I've struggled with depression, discouragement, feelings of low self-worth, negative self-talk… all that junk. But it was at that moment that I realized that all the challenges I had gone through had made me a pretty strong person!