I've posted before about how my phone and I have a love/hate relationship. I sometimes blow through the battery and then am stuck without my phone. So I've recently started trying out charge banks to charge my phone up on the go.
Recently, I received a portable charger from Olala.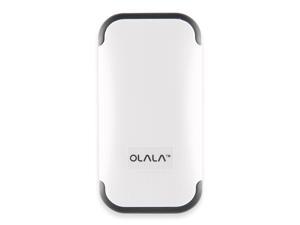 Below is my review.
This charger is pretty handy. It works with most phones/tablets. Note that Apple users will need to use their own cables, as it only comes with the Android style charger.
You can see how big it is, or rather how big it isn't. This can easily fit in a pocket or in your purse. Throw it in the diaper bag or even a small clutch purse. Easy to take no matter where you're headed to.

Here you can see where the cord goes. The USB is for your phone. You can use the USB that was provided, or use your own cable. I have an LG G2 and the cable provided did not charge my phone for some reason. I can't be sure if the cable was defective while charging the unit, but when connected to my phone it didn't do anything even though the device said it was fully charged. I have since only used my own charger cable with this device. Note that it doesn't come with the wall adapter, you should use your own.

In the above image, the 4 battery symbols indicate how much battery life is on the charger.. From left it is full battery, 3/4 battery, half battery and 1/4 battery.
The images below show what it does. You simply press the power button and it lights up how much power the device has. The image shows how it lights up. Currently, it is charged halfway.










Size comparison. here it is on top of a typical 16 pack of Crayons.


Charger with the included cable.


Me using it in my car. My phone was about to die because I didn't charge it, and I was heading out. This works best if your phone is OFF while charging. It will not keep the battery alive so you can use it. You should turn off your phone and charge. I went from 5% to about 20% in a rather short time. Maybe 15-20 mins? I did not track the time. But I was able to get to my destination in that time.

The only complaint I had was with the cable. That may be a one-time issue and may not be the case with all units. Or it could just be with my phone model. Either way, I highly recommend this charger. It has been a lifesaver a few times, and I'm happy I had it with me.
Here is some info from the company:
User-Friendly Design: Handy Size and Comfortable Touch Enable it be Your Best Companion On The Go;Compact and Portable: Small and Light Enough to Carry Around; LED Charging Indicator: Red indicates it is charging; Blue indicates it is Charged; Safety Ensure Technology Inside: Guarantees against over-charge, over discharger, over current, over voltage, short circuit and provides temperature protection at all time.

Specification:Capacity: 4400mAhDimension: 85x40x20mmWeight: 110gBattery Type: Lithium-ionInput: 5V / 1A Output: (5V±10%) / 1AFully Charged by 1A Adapter: 6hoursFour LED Battery IndicatorsCycle Life: >500 timesOperation Environment: -10 to 55?Operation Humidity: 10%~85% RHStorage Environment: -20 to 70?Storage Humidity: 5%~90% RH
Package Includes:1* G1-4400mAh Power Bank1* Micro USB cable1* User manual
Note:Cycle life, Carry out 500 cycles charging/discharging in the below condition:Charge: standard chargeDischarge: 0.5C5Ato cut-off voltageReset Time between charge/discharge: 30 minTemperature: 20±5
And check them out on social media
Now tell me, what is the one tech device or gadget you can't live without?